The POGG Relaunches With A New Design And Better Features
For years, the POGG has been one of the finest gambling portals in the industry. Constantly providing quality online casino reviews as well as dispute mediation services for players the world over. Now, with its recent relaunch, the website has become even faster and better while still retaining the features and services that set it apart from other online gambling portals.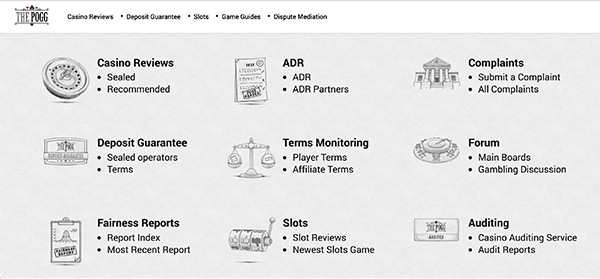 Redesigned To Improve User Experience
There's no doubt that the first thing users will notice about the POGG redesign is how streamlined it is. Navigating through the site is much easier now since all the categories and services are visible on the homepage. This change allows users to conveniently submit complaints, check casino audit reports, or join on on gambling discussions in the forum without having to lose their way in a maze of menus. In addition to improving user experience on desktops, the site redesign by HorseshoeAgency.com also serves another purpose.
The POGG on Mobile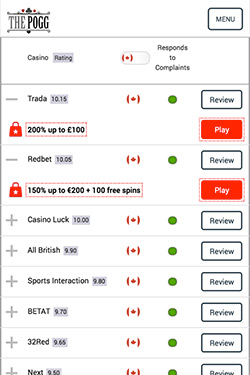 The POGG is now faster and more responsive on mobile devices and tablets & iPads. Players and users will now find it easier to access the site's casino-related services, reviews, and reports using their mobile devices. With HorseshoeAgency.com's approach to the redesign, players are ensured that they're going to get a fast and responsive user experience regardless of what platforms players may use to access the site.
Casinos are just all becoming more mobile friendly so it's not just a trend but any site needs to be mobile ready. The responsive design combined with a focus on user experience ensures players get the quality information and help they are looking for.
Still Focused On Providing Value
Even with the changes to the design, The POGG's core services and features still remain the same as when it was first launched in 2011. Players can still expect detailed online casino reviews that are honest and unbiased as well as support for casino complaints they might have with an online casino/s.
Detailed Reviews
Players who are unsure of an online casino's offers would do well to check out if it has been reviewed in The POGG. Its team of experienced players can always be trusted to come up with no-nonsense and unbiased casino reviews. Unlike its competitors, the site's review process entails the reviewers to accurately report on the important features and services offered by an online casino. Thanks to the in-depth nature of this process, reviews take longer to finish yet are guaranteed to provide more value for the players.
Dispute Mediation
Another core service of The POGG that has become even better with the redesign is its Complaints and Dispute Mediation. The site was recently recognized as one of the few that provided Accredited Alternative Dispute Resolution (ADR) services by the UK Gambling Commission. Its current ADR official has been a part of the industry for over a decade, with a qualification issued by the Chartered Institute of Arbitrators. The ADR official is also recognized as a respected gaming mathematician with a record of 450 disputes mediated in the last three years alone. Just how effective is the site's complaints and dispute mediation services though? At the time of the site's relaunch, it was able to close a total of 489 complaints with 18 still pending/open and a total of $505000 returned to players.
About The POGG
In the 5 years that it has been in operation, ThePOGG.com has built a reputation as an online gaming portal that genuinely cares for players' welfare. In its years of operation, the site has provided players with detailed online casino and slots reviews, casino auditing services, fairness reports, as well as complaints and dispute mediation services. Its relaunch, featuring a redesign by HorseshoeAgency.com, has further improved how the site's services are delivered to players. Now it's become more navigable and it even loads faster on both mobile and desktop platforms.