LatestCasinoBonuses launches brand new design
Latestcasinobonuses.com is pleased to announce the launch of our thoroughly redesigned and greatly improved website. After 10 extraordinary years of continual presence as the industry's leading affiliate, we have decided that both our dedicated team and our invaluable members deserve something better - increased responsiveness, flawless aesthetics and seamless performance of the medium through which we can communicate with greater efficiency and provide our customers the best means to continue complementing each other's expertise and abilities.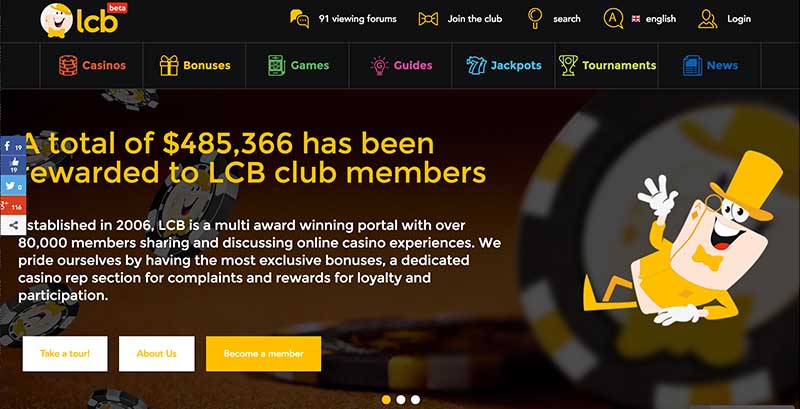 What Has Changed in LCB
It took our web design and engineering teams over a year of hard work to rebuild our website from scratch. With your needs in mind, we have overcame every obstacle to deliver a well-rounded website that works flawlessly and looks amazing. It was an undertaking of tremendous scope which the industry has not seen for the last 5 years. Our vital core and primary focus remained as they were, but the reasons behind the change were maximizing the players gaming experience and achieving greater synergy between the idea and the expression.
• the site has been cleansed from all the excess features that were considered ineffective and cumbersome
• individual sections have undergone remodeling to increase responsiveness, functional performance and search effectiveness
• our engine has been reworked to accommodate new ways of access
Polished. Fast. More Practical
Driven by the need to improve beyond what we thought possible and fuelled by the unconditional support we have been getting all this time, we will continue to push boundaries and deliver the kind of valuable knowledge and premium services not found anywhere else. Our offer contains everything any gambling enthusiast and business client can possibly need for the most comprehensive gaming experience or most profitable online presence.
Immersive Experience for LCB
• enjoy our user-friendly interface remodeled after the highest standards of excellence
• unique UX design boasts bright colors and harmonious lines - all in the service of a pleasant visual perception
• individual sections have been rearranged to achieve a clean look and effortless navigation
• multiplatform convenience and mobile responsiveness are now integral parts of our brand
Improved Structure for Intuitive Navigation
• main topics have been sorted out into a convenient layout with an ease of access and a clear understanding of designated subjects
• find your way around and memorize important tabs according to a range of assigned colors
• inner linking structure is fully optimized and in perfect order
Manage Your Profiles With Greater Efficiency
• relevant User Profile information is placed in a single location making editing, messaging and navigating easier than before
• direct links lead to your Dashboard, Profile, Messages and the LCB Shop
Stay Informed With Our Guides And Knowledge Base Section
• we have created the most comprehensive information database available online
• individual bits and pieces that were scattered around were collected under the same tab
• opening page contains all important questions arranged in a meaningful way and leading to concise answers
• guides are easy to understand for both layman and experienced players, courtesy of some of the most reputable gambling experts in existence
New unique online resource for gambling restrictions per country
One of a Kind Community Forum
• LCB boards are unique, entirely authentic and the only one of their kind in all the industry
• proficient and friendly administrators, moderators and employees are available around the clock for any and all of your questions
• over 80,000 registered members make our most valuable asset, continually sharing their experiences and providing the necessary support to our brand
• an endless supply of relevant topics is what makes and keeps our boards popular
Reinvented Paramount Content
Our purpose and our very own existence centers around online casinos and the benefit of players. In this regard, we wished to up the ante and improve the way we approach these crucial elements of our work.
LCB is one of the first affiliate websites to manage player disputes - not only did we help thousands of members retrieve owed winnings big and small, but we have also established ourselves as unsurpassed mediators between players and online casinos, to the benefit and satisfaction of both parties.
Casino Compliance System
• submitting complaints has never been easier thanks to the new efficient system
• each casino review now features the complaint tab in the header of the page
• a simple click is all you need to relate your issue to LCB
New Bonus and Casino Filters
• enjoy a hassle-free bonus and casino search powered by a selection of improved filters
• you can customize your search according to countries, featured software, types of games and similar filters
Our Story
LCB is a leading casino affiliate and one of the best available sources for all gambling related matters. Ever since our inception in 2006, we have been fulfilling a vision of greatness, setting new standards of affiliate marketing and continually staying one step ahead of the latest innovations.
While we offer an abundance of gaming related services, our main goals are educating players in choosing casinos to play at and helping our clients to become and stay relevant in the industry.
At our website, you will find every aspect of gambling covered in great detail. Players can consult over 1,000 unbiased casino reviews, 3,000 slot reviews and almost 300 official casino representatives present on our forum.
What LCB is especially focused at is our comprehensive lists of No Deposit Bonuses, Exclusive Bonuses and contests. These sections are one of the pillars of our success and most popular sections on our forum.
Over 80,000 registered members keep us going and inspires our dedicated team to continue to improve our services. To show how much we appreciated their support, we became one of the first affiliates to introduce a Loyalty Rewards program awarding members with various prizes at our player shop.
Hopefully, the new design will better communicate our message and make your visits more enjoyable, productive and rewarding.