Domaining Tips & guide on selling domains
The business of selling domains is more or less an industry of it's own. It is essentially virtual real estate and domains are worth whatever people are willing to pay for. When you look at the biggest sales in domain history you can see domains can be worth a lot of money. The same is true for the largest sales of gambling domains as well as biggest sales of poker domains.
When it comes to selling domains people can fall into one of two categories: individual sellers that want to sell or need a broker or people that want to get into the business of domaining.
Individual sellers wanting to sell their domains
Some people have collected domains over the years, much like antiques and want to know how much money they can get from them. Often these domainers don't know where to go and usually end up on sites like Flippa or Sedo that offer the ability to sell domains with a free listing but take a commission when a domain is sold. These companies also make money on upselling so if you want your domain promoted to the homepage or sent in a newsletter, this all costs money and quite often you'll spend more on these services than what you can get in return for selling a domain. It really comes down to marketing and having the right people know about your domain along with having a realistic price to match. Often inexperienced domain sellers will overvalue their domains and struggle to understand why nobody would pay a large amount for a domain that is probably not worth the yearly renewal fee.
Becoming a Domainer
So if you want to get into the business of selling domains, you need some inventory and that can be buying your own domains to create inventory or offering to broker domains for others. To go this route requires patience, a marketing plan and probably needing to create your own domain website so you can list your inventory and market that domain itself.
For those that want their own custom designed website with domain listing functionality, contact us for a quote.
Tools for Domaining
If you want to become a domain broker, seller or domainer or one of the many terms used today, you'll need some tools at your disposal and this is where our domaining tips come in handy for you.
Whois Lookup & History
domaintools.com - It is always good to see the whois information of a domain if you are looking to buy. Likewise you can use this information to contact a domain owner as well which is good for domain verification. This tool will also verify how old a domain is
Registrar - Register your domains
namecheap.com - Namecheap is a recommended registrar. They have excellent customer service, their whois guard service is not free but it is very cheap and webmasters overall are happy with Namecheap.
SEO & Backlink Tools
linkresearchtools.com - You can use this to look up all the links a website has.
majestic.com - Look up number of links and link quality a domain has
moz.com - Look up other types of link quality factors for a domain
archive.org - You can see if a domain has ever been setup as a website previously
Domain Sales History & Domain Valuation
dnpric.es - Look up a keyword and see which domains have sold including where it was sold.

estibot.com - This website will estimate a domain's value.
Find Expired Domains
freshdrop.com - Search hundreds of thousands of domains that are about to expire and hit the marketplace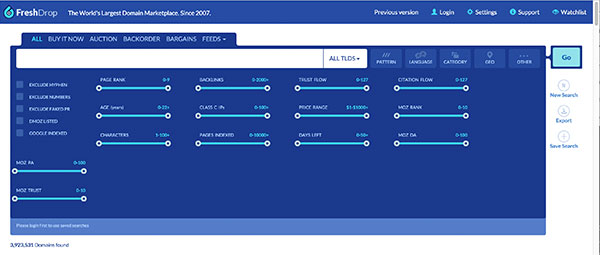 Domain Terminology
DA - This refers to Domain Authority and is a metric created by Moz.com
PA - This refers to Page Authority and this is a metric created by Moz.com
TF - This refers to Trust Flow and is a metric created by Majestic.com
CF - This refers to Citation Flow and is a metric created by Majestic.com
Backlinks - This refers to links that direct to a domain in question.
Making use of all the terms. It helps to have some understanding of SEO (search engine optimization) to relay the value of domains. You can think of a domain like a piece of property, if the domain has a website up and running on the domain, then it's like having a house on it. Also if that domain has other websites linking to it, this is already valuable data where many domains have never been used and have no links at all. Think of links as traffic source potential.
Remember not all links are created equal so a domain with thousands of links might not be one worth pursuing or even worth selling. This is where the other terms of DA, PA, TF and CF come in handy. These are quality indicators of the links a domain or website has. In general you could say the higher these numbers the better and you can test some of these metrics by entering in some domains or websites to see what data they have. You can see at the following sites: